International Freight Company | CargoMaster Services
International Freight Company
International freight is a service offered by CargoMaster. When looking for an International shipping Company or freight service you must first decide if you require international air freight or international sea freight forwarding. CargoMaster international freight forwarders with over 30 years experience in the transportation industry. CargoMaster international Shipping services are available to and from Australia and world-wide and are made available for you  to move  air freight and sea freight to and from most global centres.
International Shipping Company
Call CargoMaster 1300 767 136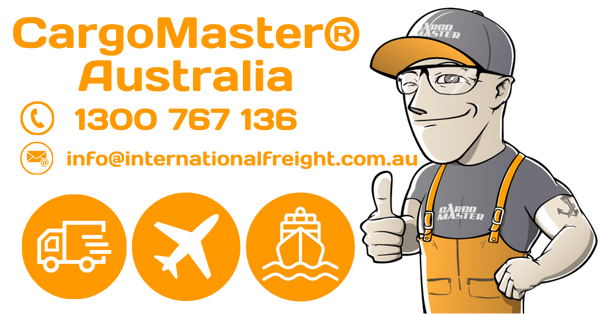 CargoMaster works with business's all over Australia, moving all types of international cargo. When you call on CargoMaster to move your international freight your backed by an international freight specialist that offers many years experience organizing international air and sea cargo. CargoMaster international Freight Services include relocations, moving containers shipping overseas  are very popular, cost effective and easy to use. CargoMaster is renowned for delivering cost effective, innovative international freight solutions. Established in 2002 by Grant Carroll and trading originally as Carroll International Pty Ltd, CargoMaster offers many years' experience in the international freight industry and sea cargo industry.
CargoMaster is an Australian based independent international air freight and sea freight specialist. Through CargoMaster you gain access to a vast international freight forwarders network that expertly handles air freight services and sea freight services safely from point of origin to the point of destination, if you are looking for international freight companies in Australia, contact CargoMaster, the international freight forwarders that truly deliver. CargoMaster understands the sophisticated operational procedures required to guarantee smooth international shipping of your goods throughout the world.
Which is why you can rest assured knowing that your goods are being handled by a team of experienced Australian freight forwarders. With CargoMaster as your freight forwarder and provider of international freight and shipping services you can be assured that their comprehensive range of cost effective air freight and sea freight services will be capable of meeting the demands of any international freight projects. CargoMaster offers a wide range of sea freight services including self pack international shipping and self pack international moving, 20 and 40ft export self pack international shipping containers for people relocating overseas.

Typical Questions Callers Ask About International Freight 
How much does it cost to ship freight internationally?
The cost to ship freight internationally will depend on several different things. Firstly the size and weight of your goods and how you intend to ship the international freight by air or sea. Finally, the origin and destination will also be a factor when calculating the cost of shipping internationally
What are the types of freight?
In terms of commodities to many types to list. In terms of modes of transportation you can consign your goods by Air Freight or Sea Freight
What is international air freight?
International Air Freight is the cargo that is transported by air into Australia (International Import Air Freight) or cargo that is transported by air freight Australia to another country (International Export Air Freight)"
How Much does a 40' Shipping Container Cost?
The cost of a 40' shipping container will depend on where you are shipping from in Australia and where you would like to ship to. Call CargoMaster for a quick quote for 40' shipping containers to almost anywhere in the world.
How much does it cost to ship a 20 foot container?
The cost of a 20' shipping container will depend on where you are shipping from in Australia and where you would like to ship to. Call CargoMaster for a quick quote for 20' shipping containers to almost anywhere in the world.
How much does sea freight cost?
The cost of sea freight will depend on the size of your shipment , where you are shipping sea freight from ands where you are shipping sea freight too. Call CargoMaster for Australia's best sea freight rates.
Moving All Types Of Cargo From And To Australia
For air freight to the USA or air freight to the UK, contact CargoMaster, we provide import for consolidation services too! Ask about cost effective international air freight consolidation services to all Australian capital cities.CargoMaster also offers  Australia-wide domestic air freight services for same day air freight and overnight air freight to and from Sydney, Melbourne, Brisbane, Perth, Adelaide, Darwin, Cairns, Mackay, Townsville, Rockhampton, Port Hedland, Karratha and Broome.
CargoMaster are renowned mine site delivery specialists, so if you require pick up or delivery services in regional or remote Australian locations CargoMaster has you covered. CargoMaster provides LCL sea freight consolidation options to over 150 worldwide destinations. For Pacific Islands freight requirements contact CargoMaster we provide air freight and sea freight consolidation services to the Pacific Islands.
If you are relocating overseas and are looking for a low cost relocation option, ask the CargoMaster team about self pack containers with vessels sailing weekly to all corners of the world, CargoMaster's self pack moving containers will save you heaps of cash!
Cargomaster Door To Door Freight World-Wide
Cargomaster Delivering Affordable International Freight Services

AIR CARGO CHARTER
INTERNATIONAL AIR CARGO WITH GLOBAL INDEPENDENT NETWORK

INTERNATIONAL AIR CARGO
EXPERTS IN AIR CARGO, SAME DAY AND OVERNIGHT AIR CARGO AUSTRALIA WIDE

AIR CARGO AUSTRALIA
DELIVERING HIGH PERFORMANCE AIR CARGO SOLUTIONS
International Logistics Experts
Popular International Freight Routes
CargoMaster cares, offering peace of mind and expert advice with all international sea freight services and air freight services:
Economic and competitive international shipping PROVIDING COMPETITIVE INTERNATIONAL FREIGHT COSTS
Experienced consultants available for advice in relation to shipping heavy equipment
Experienced a highly trained, and qualified, customer focused team
Moving Containers available from Australia worldwide
International freight network of established freight forwarders
Technologically advanced 'HI TECH' solutions
Track and trace options
Comprehensive door to door freight insurance protection
With experienced and friendly staff available call now TEL 1300 767 136 AUSTRALIA WIDE
---
Thank-you for contacting us, it's great that you have selected our contact us page, we appreciate the opportunity, if your shipment relates to air freight or less than a container load sea freight, please include the weight and dimensions of each piece in your request. We look forward to working with you, please feel free to call at any time.
TEL: 1300 767 136