SELF PACK
INTERNATIONAL SHIPPING CONTAINERS
"MOVING OVERSEAS SHIPPING CONTAINERS"
"SELF PACK INTERNATIONAL SHIPPING CONTAINERS AVAILABLE THROUGHOUT AUSTRALIA"
"AUSTRALIA'S ORIGINAL SELF PACK INTERNATIONAL SHIPPING COMPANY"
CALL CARGOMASTER TEL: 1300 767 136
If you are looking for a cost effective way to relocate overseas from Australia why not consider CargoMaster's Self Pack International Shipping Containers?
Self Pack International Moving Containers are available all around Australia and could save you up to 50% compared to an International Moving Company. CargoMaster proudly boasts over 20 years experience helping individuals and families relocate overseas with Self Pack International Containers.
Moving Overseas from Australia: Everything You Need to Know
Thinking of moving from Australia and or relocating to a different country? perhaps it's time to take the plunge and consider a move overseas. .There are many factors to consider before taking such a big step, but with the right preparation and planning and freight forwarder  it can be an incredibly easy and rewarding experience.
Before you make any drastic decisions, it's important that you take some time to weigh up your options. Are you looking for a short-term move or do you want to settle abroad permanently? Consider your job prospects, cultural differences, climate and language barriers in the destination country before making any decisions. Once you've made your decision about where and for how long, it's time to start considering how exactly you will make the move overseas.
No matter how far away from home you are traveling, packing can be one of the most time-consuming aspects of moving overseas. The best way to ensure your possessions arrive safely is by using self-pack international shipping containers. With self-pack international, you pack your own shipping container. This way of moving and shipping containers overseas is ideal if you are looking for the cheapest way to move overseas. CargoMaster self pack intation shipping containers are available all around Australia ,they can be delivered to your premises for packing. You get upto 10 free days to pack the container, then CargoMaster will organise collection and shipping to your new home!
If there is too much work involved with packing yourself or if your belongings don't fit into standard sized containers then ask CargoMaster about organising international packers to pack the container for you.
Once everything has been packed up ready for transit, there are several facts about shipping containers that everyone should be aware off when moving overseas from Australia:
– Many countries impose entry taxes on container shipments so it's always wise to research this beforehand as unexpected charges may affect the overall budget for relocation costs, most countries do not charge duty and tax on household goods, personal belongings when you are relocating to that country.
– Before sending any kind of shipment abroad make sure all paperwork is in order otherwise delays can occur due customs issues;
– Some countries require certain items such as antiques and valuable possessions like paintings and jewellery require additional documentation;
– Insurance , ask CargoMaster for insurance quote
-The above information may seem overwhelming but with CargoMaster it is relatively easy, so long as you are FIT enough to pack the container!. CargoMaster has professional help on hand should you need help.
Shipping Containers come in two sizes a 20′ container is the smallest (6 meters long) in general terms it will hold the equivalent of a 3BRM house. The next size is a 40′ container (12 meters long) often customers will move their belongs and a car in a 40′ Self Pack International Shipping Container.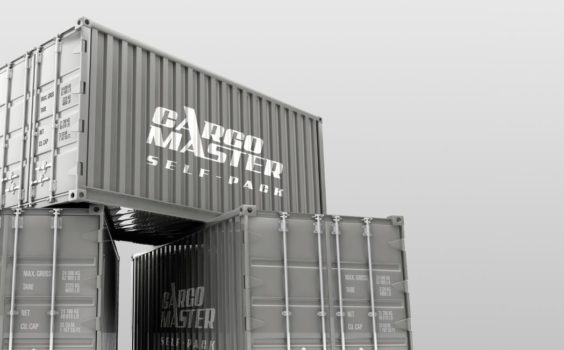 Once you decide to go ahead with a low cost Self Pack International Shipping option all you need to do is call CargoMaster to make your booking and arrange delivery of your empty shipping container for packing, CargoMaster will deliver your shipping container via a tilt tray truck or side loader vehicle depending on what's most suitable. If you do not have space to position a container at your property you can pack in CargoMasters packing yards at no extra cost, alternatively you might want CargoMaster to deliver the container to another location for packing.
Another advantage of Self Pack International Shipping Containers is the transit time is normally much quicker compared to an international removalist, of course you also have the added peace of mind knowing you packed your container!